The Memorial's Location

The Veterans' Memorial is located in the Sunset Beach Town Park, adjacent to the Intracoastal Waterway, thanks to the unanimous support of the Sunset Beach Town Council Members: Lou DeVita, Karen Joseph, Carol Scott, Wilson Sherrill, and Mike Williams.
Our Plan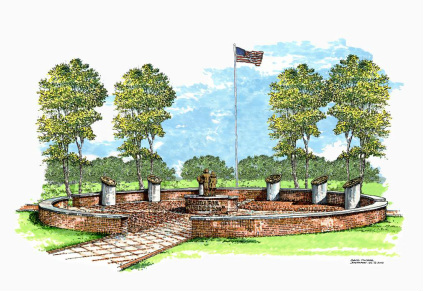 The memorial, as shown in concept at the left, is an approximately 900 square feet, circular memorial with a flag pole for the US flag, pedestals for Service emblems and, in the center, a 4-foot diameter granite top with a map of the world representing the presence of US military across the globe. At the front of the granite top, facing the flag, are bronze statues of two children with the phrase "thanks for our freedom." The exterior wall of the Memorial is 18" high and level with places for visitors to sit while they rest and contemplate the significance of the sacrifices and contributions our veterans have made. The flooring consists of engraved clay bricks of varying sizes. The accompanying artist's rendering will give you a better idea of our concept for the memorial. 
The photo below shows the completed Veterans' Memorial.

---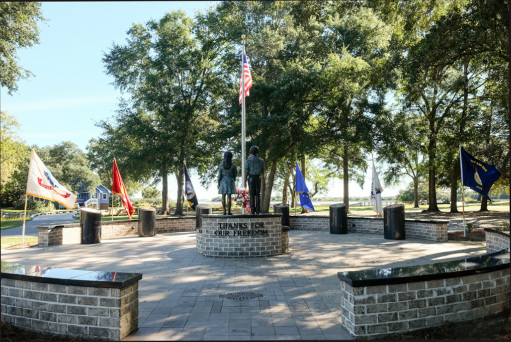 A Dream Realized
The photograph at left shows the Veterans' Memorial as dedicated on Veterans Day, November 11, 2015. The Service and Merchant Marine flags (from left to right: Army, Marine Corps, Navy, Air Force, Coast Guard, and Merchant Marine) are positioned outside the Memorial behind the respective Service seal or emblem, mounted in bronze on top of granite pillars. The US flag flew over the United States Capitol on June 3, 2014 at the request of the Honorable Mike McIntyre, Member of Congress and flown on behalf of the Committee to Honor America's Veterans.


---